Download FREE White Paper
Find out what pay practices OFCCP is examining and how to protect your company.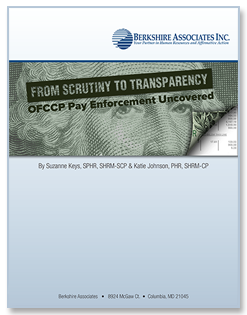 Since 2013, fair pay practices have been a top priority for Office of Federal Contract Compliance Programs (OFCCP). And with recent regulatory changes, including Executive Order 13665, and the impending Equal Pay Report, HR and compliance professionals are looking for a clear understanding of how to protect their companies.

Download this white paper to learn about:
OFCCP's current compensation analyses
The six main topics covered during a compensation review
How to manage the end of pay secrecy
The importance of annual salary equity analysis
Understanding how and why OFCCP is enforcing compensation compliance is critical in keeping your company protected from liability.
Complete the form to access your free white paper now.
Effective salary equity practices are a must. Berkshire can help. Our experienced consultants conduct complete salary equity reviews using the most advanced statistical analyses. Contact Berkshire today to learn more.