From November 4, 2014 to December 2, 2014, CareerBuilder conducted a survey of 3,056 employers from various industries to find out what will affect employee retention in 2015. According to CareerBuilder, 30% of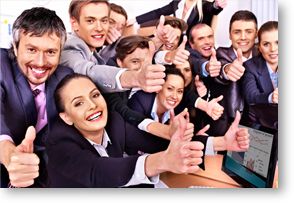 employees regularly search for jobs and 23% of employees ages 18-34 expect to have a new job by the end of the year. Retaining employees is vital to having a productive, successful organization. Some benefits of retaining employees are:
Saving Money: According to the Society for Human Resources Management, "employee replacement costs can reach as high as 50 to 60 percent of an employee's annual salary." Retaining employees assists with offsetting employee replacement costs.
Maintaining Performance and Productivity: The loss of an employee and the training gap for new employees can decrease productivity. Keep productivity uninterrupted by working to keep current employees satisfied with their positions.
Stronger Commitment: The greater the work environment, the more likely employees are to stay with their organizations. A great work environment creates happy employees and happy employees have a stronger commitment to their organization. Employees with a strong commitment to their job have higher rates of productivity and a better understanding of their impact on an organization.
According to the CareerBuilder survey, here are the employees most likely to leave their organizations in 2015:
Those who feel like they have a job, not a career—52%
Underemployed—31%
Undertrained—35%
Overlooked—31%
Lack of career advancement—37%
Underpaid—22% (For information on discussing compensation in the workplace, read "The Talk: Three Best Practices for Discussing Compensation")
Mismanaged—27%
Work/life imbalance—33%
According to the survey, here is what employees are looking for in an employer:
Job stability—65%
Better Location—57%
Affordable benefits—55%
Good work culture— 46%
Flexible work schedules—40%
Career advancement opportunities—39%
To retain employees, it is imperative to understand what they are looking for in an employer and job position. Once you have an understanding of the desires and needs of employees, appropriately accommodate their needs and let them know their future employment with your organization is important to you. Reduce cost, maintain performance and productivity, and continue to increase employee satisfaction by working hard to retain your employees in 2015 and beyond.
To learn about another important aspect of attracting and retaining the right applicants—employer branding—check out this post, "Pizza Hut's New Brand: What HR Can Learn about Employer Branding ."